What's Happening

Loyalty Members
March Bonus

Make a reservation for the month of March, and say "Coral Wine please," or enter this phrase in the notes
if you are making your reservation online. Then, when you order a bottle of Coral Wine with your dinner
you can order a second one for only $15! You can even take the bottle home if you'd like!
St. Patrick's Day at WCYC

Please join us this St. Patrick's Day for our
special dinner menu, and/or for some
equally special drinks! You must have a
dinner reservation for the menu – so please
call us, or make your
reservation online
,
by
March 15.
If you make your reservation
online, please be sure to put in the notes
that you will be having our special SPD
menu.
Friday
March 17, 2023
St. Patrick's Day
Menu

Ellen O'Connell McCarty's
Famous Irish Soda Bread 
Four Leaf Clover Soup
(well, ok, really it's spinach, leek & potato)
crème fraiche, spiced cracker
Chef Kevin James O'Weinberg's
Corned Beef Brisket & Cabbage
honey glazed caraway carrots
baked smashed red potatoes
sweet & spicy cider mustard sauce
Lucky Leprecaun's
Guinness & Oatmeal Spice Cake
mixed nut topping, jameson whipped
cream
bailey's irish cream sauce
$40.00
Special St. Patrick's Day Drinks
All Day
Bring us a 4 Leaf Clover and
we'll buy you one!
Guinness
6.00
Irish Coffee
7.00
Black Velvet
prosecco, guinness, flute
7.00

---
Last Wednesday of the Month Dinner Series

This month it's VIVA ESPAÑA

For this dinner we celebrate Spain through its food and wine.
Once again Chef Kev will be preparing his special paella
with
you,
in
the Marina. This is your chance to watch a pro craft a
paella grande right in front of you!
This is usually a sold-out dinner, so reserve your space now.
Wednesday March 29, 2023
6:00 on The Marina
Selection of Traditional Tapas
marinated olives
jamon serrano
huevos diablo
(tuna-stuffed spicy eggs)
tortilla española
marinated mussels
mint, orange & sherry vinaigrette
Avinyò Brut Cava Reserva Rosé, Penedès, Spain 2019
Aji Blanco (White Gazpacho)
marcona almonds, bread, green grapes, chive oil
Paella WCYC
saffron sofrito, prawns, chicken, squid
red peppers, asparagus
Membrillo con Queso
montablan, valdeon
walnut levain
Dinner includes Cava, Sherry, Sangria & Brandy
$90 per person
tax and gratuity are not included
Spanish cheeses & Cava will be
available to purchase to take home.
---
It's Time to
VOTE!
Please do us a solid, and vote now!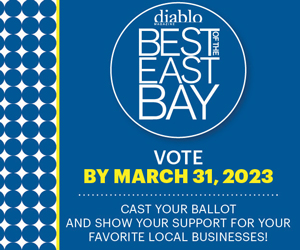 Now until March 31
Let's DO THIS!
Voting is open through 11:59 pm on March 31, 2023.
Cast your ballot and be entered to win a $200 Gift Card.
Vote by clicking the photo above, or go to
DiabloMag.com
Either way, please take along this voting guide:
We would be so grateful if you would

please submit a vote

for us in

the categories of Food and Drink, and Nightlife

:
Burger
(If you haven't had our burger, do it. It's soooo good!)

Chef – Chef Kevin Weinberg

Fine Dining

Healthy Dining

(What could be healthier than impeccably sourced and prepared seafood?)
Restaurant with Outdoor Dining
And here in the Nightlife Category:
Happy Hour (Skippers Meeting)
(Skippers meeting is where you can indulge in our fabulous burger,
among other tempting menu items and drinks, at very fabulous
prices!)
Loyalty Program

Become a card carrying WCYC Member now
The Program
It's very simple: Come into the WCYC and earn points! Every time you dine here, purchase merchandise or something from the seafood market, we put points on your card. For every dollar spent you get 1 WCYC Loyalty Point. At 1000 points we put $50 onto your card for you to spend here any way you wish when ever you want. Now here's the bonus part. We will also run periodic WCYC Loyalty Bonus Point promotions to help you accumulate points more quickly! Go to our Website WCYC.net, click on the What's Happening tab, look for WCYC Loyalty Bonus Point Promotions, and the current programs will be listed there. We will also be sending you our email newsletter The Scuttlebutt, that will keep you up to date on what's happening down at your club and what bonus point offers are available.
The Card 
Ask anyone here for one, fill out the form and the card will be yours. You can also go to wcyc.net and register there, and we'll mail you one.
So get your card and sign up now to start earning points!!
---
Open for Indoor and Outdoor Seating

Monday-Thursday 11:30am-9pm
Friday and Saturday 11:30am-10pm
Click here for reservations or give us a call 944-FISH
Click here to order online
Pickup hours 12:00pm-8pm
---
Skippers' Meeting at the Bar
(that's Happy Hour in WCYC speak)
Monday-Friday: 3:00-5:00
Loyalty Members Only
Bar & Oyster Bar Only
Not a member? It's free.
Sign up now and join the meeting!
6.00 –  All Draft Beer
8.00 – All Coral Wine, Copain Chardonnay
&
All Well Drinks
20% off – All House Cocktails on the List
24.00
Shucker's Choice Dozen Oysters
Snacks & Sandwiches

 West Indian "Pepperpot" Bowl
fish, prawns, chicken, tomato, lime
caribbean kick
8.00
Monterey Calamari
cajun spices, onion, creole remoulade
12.00
Fish Tacos – Mahi Mahi
battered or grilled
shaved red cabbage, avocado salsa
cilantro & cumin cream
12.00
Fish 'n' Chipswich
wcyc tartar sauce, coleslaw
toasted acme torpedo roll
12.00
Buttermilk Battered Crispy Fried Chicken Sandwich
toasted acme pain de mie bun
arugula, red onion, dill pickle, sweet & spicy mustard sauce
12.00
1/2 lb Certified Black Angus
Natural Beef Burger
pickle, lettuce, tomato, red onion
wcyc burger sauce, acme burger bun
12.00
---
Monday Mussels Madness
For Loyalty Members
MOULES ET FRITES
Belgian Style Mussels and Fries
Every Monday night, starting at 5pm
$25 per person
If more than one is partaking,
the meal is served family style
 Acme Levain Bread
Bowl of  Salad
cucumbers, fennel, radish, tomato
crispy onion, orange-sherry vinaigrette
Washington Blue Mussels & Fries
steamed with:
white wine, garlic, parsley, lemon, butter
or
red wine, orange, chorizo, tomato, fennel
garlic, onion, mediterranean spice
or
red curry, coconut milk, mint
crispy shallots & garlic
3 Mayonnaises
curry, lemon aioli, smoked paprika
Here's what makes it a really sweet deal:
You want more of any of that?
You got it.  No problem. No charge
Please make a reservation for this meal so that we can be prepared for you.
There are no substitutions with this offer.